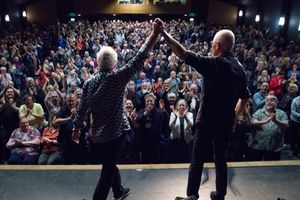 THE LINDISFARNE STORY: MORE DATES THIS AUTUMN!!!
Click dates for full venue & booking info
RAY LAIDLAW and BILLY MITCHELL present a  joyful, funny & emotional celebration of Tyneside's favourite band, featuring acoustic performances of LADY ELEANOR, MEET ME ON THE CORNER, FOG ON THE TYNE, RUN FOR HOME and more!
When Alan Hull, Rod Clements, Ray Jackson, Simon Cowe & Ray Laidlaw exploded onto the UK music scene in 1970, their sparkling songwriting quickly established the band as the standard-bearers for acoustic-based rock, cutting through the prevailing pop and glam sounds of the 70's.
International success followed, and thanks to a string of unforgettable songs including Lady Eleanor, Meet Me On the Corner, Fog On the Tyne and Run For Home, Lindisfarne's music continues to be heard on the radio today.
In this unique show, Ray & Billy perform all those great songs and more, and share first-hand the story of the band behind them...
NEW LIVE CD: 50 YEARS OF FOG
15 classic Lindisfarne songs recorded LIVE IN CONCERT by The Lindisfarne Story Band - available now!